Harriett Portrude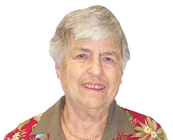 hep@harwillexpresspress.com
Treasurer & Secretary
"For me it's been great interacting with our Customers for almost 40 years! In the beginning when we were just a store front every customer was a walk in. Now we're in an office building with the majority of our clients send in camera ready files digitally. It amazes Bill and I how far we have come as an industry and as a company."
Harriett is a graduate of Mary Washington College with a degree in Radio and Television. She handles the Accounting and Human Resources duties for the company.
Harriett and her late husband of over fifty-five years, Bill, bought a Sir Speedy franchise in 1973. A few years later the couple became an independent company and changed the name to Express Press. A few months later Harriett and William added an amalgam of their names (HARriett and WILLiam) to Express Press naming the company Harwill Express Press.
Before starting the company, Harriett worked for NBC in New York as a Guide Staff member and then in various Television Pre-Production Departments during the initial days of color television. From NBC she went to work for The United Nations in the Television Division.
Harriett has two children, daughter Christina and son Steve, who is the current President of the company. When not at work Harriett enjoys lounging at the pool and spending time with her three grandchildren.