Susan Kaminski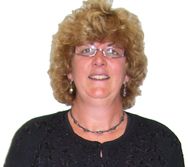 sue@harwillexpresspress.com
Senior Graphic Artist
"Strive to make sure that the integrity of our clients' projects are always at a 100%!"
Sue is a graduate of Trenton State College, TCNJ, with a BA in Advertising Design. She handles all of the creative, design and file troubleshooting for the company.
Sue gained extensive real world experience before joining Harwill by working for various Advertising Agencies' in-house Art Departments and later promoted to Art Director. Sue's eye for detail, willingness to help and deep rooted integrity has made her an integral part of the Harwill family.
When not at work Sue loves to spend time at the shore with her husband Tony and their two children, Jackie and Ryan. Recycle artwork is a passion for Sue. "Recycle, Repurpose, Recreate" is the inspiration behind Sue's recycled artwork. Her favorite medium is bottle caps and flip tabs, which she features in Trenton's Art All Night annual show.